QUEUING SYSTEMS SOLUTIONS
Mellon provides organizations with end-to-end queuing solutions, which help improve the management of customer flow, ultimately improving business performance and customer experience.
Over more than 20 years we have helped hundreds of customers from different sectors to optimize their flow management, improve the experience of their customers and increase productivity.
Over 3.500 installations to date covering all industries
Financial Institutions
Public Sector & Utilities
Hospitals
Airports
Telecommunications
Retail
Mellon offers a cutting edge mobile queuing solution through which your customers are able to get a queuing, before they enter the store or the branch, and to know beforehand when their turn is expected. This way they no longer need to stand in queues.
Features
Enable your customers to get information about the nearest store/ branch along with information about the average queuing time
Provide information about available services, contact details and operating hours
Send reminders and alerts when the customers' turn is about to come up
Guide customers to the branch of their choice
Run customer satisfaction surveys via the application
Our appointment software allows customers to book an appointment for a specific branch, employee, date and time from the convenience of their PC or mobile. Once an appointment has been made, that time and date is reserved and the customer receives a confirmation email outlining the time, date and location of their appointment. Customers check in at the touch screen ticket dispenser (or the receptionist/ floor manager)
Features

Seamlessly blend online/mobile appointment customers with your walk-in traffic
Add your company's logo and customize all emails with a set script that can be service type or queue specific
Send confirmation emails and friendly reminders to your customers before the appointment
Let your customers edit, cancel or reschedule their appointment
Get centralized management and walk-in queue statistics
TELLER CASH RECYCLERS & DEPOSIT SYSTEMS
Teller Cash Recyclers
Teller Cash Recyclers are used in the teller work environment to store and release bank notes according to denomination. They are capable of recognizing automatically the bank notes that are inserted in the input pocket and store them to 8 different recycling magazines. These magazines are then used to service cash outs requested by the teller, significantly reducing the cash in and cash out in various teller environments. Teller Cash Recyclers are equipped with a time delay lock, various input and output alarm mechanisms and the recognition of banknotes can be done at various security levels.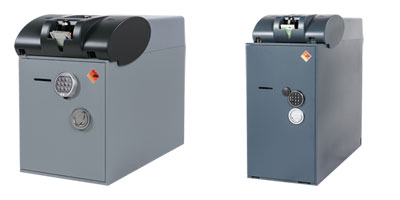 Deposit Systems
Teller Cash Dispensers can serve two tellers simultaneously for cash withdrawal transactions, offering increased security and control, while minimizing cash handling time, increasing accuracy, eliminating payment errors and enhancing security by reducing the amount of money in open cash drawers. Teller Cash Dispensers can be fitted with an envelope deposit mechanism according to customers' needs.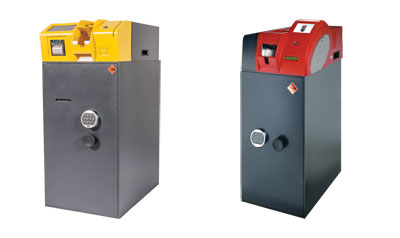 C-LINK Software Platform
This software gives a further added value to CIMA devices, thanks to different services that allow to increase the level of information about one's own fleet of machines and simplify their management at the same time.
Functionalities
Remote distribution of the firmware updates as well as the recognition sensor: this allows to have a fleet of machines always updated in a short time, without requiring any interventions in the field.
Remote monitoring of the status of the devices in real time: this enables to identify possible problems from a remote post, allowing an improvement of the quality of the help-desk service with more certain and detailed information.
Remote monitoring of the contents of the devices and of the cash handling in real time: this allows to have always a global vision of the level of use of one's own devices through suitable reports and statistics.
Remote management of the configuration of the devices: any configuration can be carried out from remote post with no need of on-site interventions.
Production of the statistics about the handling of unfit banknotes according to the Central Bank current regulation.
CUSTOMER SATISFACTION PANELS
With Mellon's customer satisfaction panels, you can easily gain real insights from your visitors and show them that you are interested in what they have to say. Leverage the data collected to master your customer service and take strategic decisions.
DIGITAL SIGNAGE
We offer a complete Digital Signage solution that transform your customers' in store/ branch journey and experience. Our solution helps businesses communicate their messages in a way that engages, entertains and informs their visitors, whilst also fully meets their business and marketing goals. Organizations from the financial, retail, healthcare and other industries can pass targeted messages while their customers are interacting with high tech electronic devices.
INSTANT CARD ISSUING
Matica's comprehensive instant issuance solutions provide the opportunity to personalize cards in real-time at the branch level and to deliver immediately into consumers' hands. As a feature of improved in-branch experience service, this 'immediacy' helps to galvanize the modernization of bank branches. It helps customer retention by serving them in a fast-moving digital era, so the choice of the right instant issuing solution is critically important.
Benefits
Cost savings in mailing since debit or credit cards are no longer mailed
Immediate purchase power; cards activated in branch
Further revenue possibilities through instant allocation
Customer loyalty
Reduction of inactive cards
CHECK SCANNERS
Mellon cooperates with Panini and offers check capture solutions that help customers fully realize the advantages and efficiencies available with the digital transformation of the paper check.
Panini's scalable check capture platforms address a complete range of distributed check processing opportunities including teller capture, branch (back counter) capture, branch transformation, remote deposit capture, lockbox/remittance processing, and more, delivering superior performance in critical areas such as image quality and treatment, MICR reading, and document handling.