FINANCIAL CARDS
EMV cards
Gemalto's EMV contact and contactless cards offer is built on several levels of specifications and options.
Cl​arista is our entry-level EMV card, designed for basic payment applications. It is a cost- effective offer that combines Gemalto's security expertise and card personalization. ​
Optelio includes advanced payment cards that give financial institutions the option to go beyond payment, by adding applications to their cards.
Desineo is our offer for fully customizable payment cards built in accordance with your specifications.

Dynamic Code Verification (DCV) card
Gemalto's next generation payment card improves security by removing the weakest link in the Card Not Present (CNP) payment chain. The card allows Issuers to show their commitment to bring its cardholders stronger security while strongly decreasing the CNP Fraud management costs they bear. It is a classic contact or contactless EMV payment card that displays a dynamic security code, automatically changing over time without the cardholder's intervention.
EMV card with fingerprint biometrics
With a fingerprint sensor right on the card body, paying with an EMV card just got easier than ever before:
​with a simple touch, no need to enter a PIN code on the Point-of-Sales (POS) Terminal to perform a payment transaction, both in contact mode and in contactless mode
no more limit on contactless payment transactions! The users are securely authenticated with their fingerprint and can enjoy the convenience of contactless for any amount
n​o upgrade is required on the POS, as the biometrics check is directly performed on the biometric card and nowhere else​
WHITE LABEL PAYMENT APPLICATION
PURE is an off-the-shelf payment application from Gemalto that is fully compliant with the EMV™ standard. It is designed for domestic schemes and private payment card associations looking for chip-based security and fast time to market.
PURE is a scheme-agnostic EMV application that private-label card issuers and national payment associations can use without the need to enter into a business agreement with another payment scheme.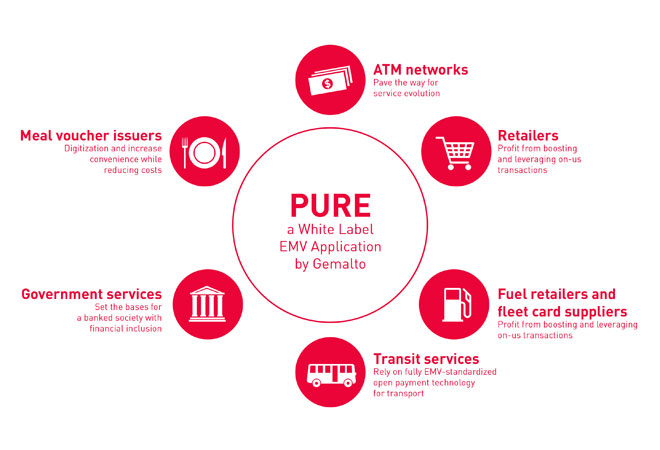 WEARABLE DEVICES
With contactless payment becoming available at an increasing number of locations, paying for your morning coffee is now only about tapping your bank card in front of the terminal at your favourite coffeehouse.
Thanks to its strong R&D capability, Gemalto has managed to condense the technology that enables a contactless card to speak to a reader into a tiny piece of secure payment technology so that it can be integrated into a range of products in all kind of shapes and sizes.

Gemalto enables banks to take their place as a leading innovator, with the Optelio banking operating system and complete range of contactless applications. Customized to your needs or ready to roll-out as Stickers or as PayBands integrating Gemalto's MiniTag and MicroTag with total ease-of-use.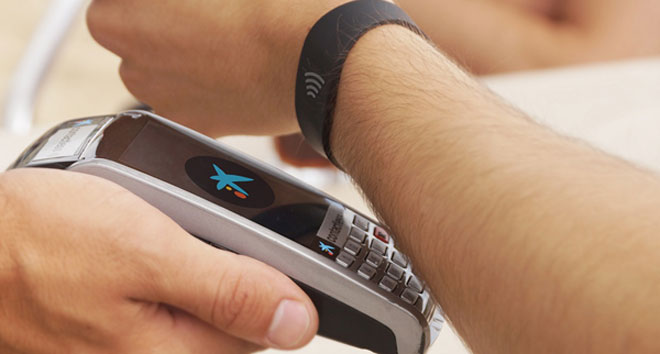 RETAIL CARDS
Mellon retail card solutions help merchants introduce and effectively harness loyalty and stored-value card programs. Mellon enhances its card offering with management and monitoring tools that let our clients dynamically interact with consumers and build profitable, long-term customer relationships.
Benefits
An easy to use and reliable tool to enhance customer loyalty, increase traffic, attract new customers, acquire statistical data, and promote your brand.
Design
With a variety of amazing materials, shapes and styles for the cards and packaging, you can create unique designs that will attract attention.
Overview

Matica's comprehensive instant issuance solutions provide the opportunity to personalize cards in real-time at the branch level and to deliver immediately into consumers' hands. As a feature of improved in-branch experience service, this 'immediacy' helps to galvanise the modernization of bank branches. It helps customer retention by serving them in a fast-moving digital era, so the choice of the right instant issuing solution is critically important.
Benefits for the banks:
Cost savings in mailing since debit or credit cards are no longer mailed
Immediate purchase power; cards activated in branch
Further revenue possibilities through instant allocation
Customer loyalty
Reduction of inactive cards
Benefits for the card holders:
Immediacy of collecting the debit or credit card in branch, avoid long waiting times
Reduced risk of mail fraud
Activation done on collection
Cardholder can use card right away
Quick replacement of lost or stolen cards

When high speed issuance is required, reliability and flexibility are the keys to success. Matica's central issuance products meet and exceed these requirements, able to print, encode and emboss over 2000 cards per hour. These systems are completely modular and can be upgraded in the field by adding the module that is needed.
These systems can be configured in any way that is needed to personalize cards quickly and efficiently. They can be linked to our mailing systems to provide a complete turnkey system.
Applications:
Credit & debit cards
Membership cards
Loyalty & gift cards
Security cards
Prepaid telephone cards
Insurance cards
Prepaid cards
Patient, visitor and staff ID