Face Recognition
Using the human face as a key to security, biometric face recognition technology has received significant attention in the past several years due to its potential for a wide variety of applications in both law enforcement and non-law enforcement.
As compared with other biometrics systems using fingerprint/palmprint and iris, face recognition has distinct advantages because of its non-contact process. Face images can be captured from a distance without touching the person being identified, and the identification does not require interacting with the person. In addition, face recognition serves the crime deterrent purpose because face images that have been recorded and archived can later help identify a person.
As independently evaluated by NIST in its most recent Face In Video Evaluation (FIVE) of Non-Cooperative Subjects, NEC's NeoFace face recognition technology has demonstrated its ability to perform face recognition under the most demanding real-world circumstances at the highest level of accuracy. NeoFace is a high performance, highly scalable face recognition software application, providing the most accurate and fastest results for the most demanding real-time or post-event face recognition use cases: large volumes of data throughput, large numbers of users, large numbers of devices, large scale deployments.
Installations in 46 countries & territories
30 Airports
100m enrolled database
1,000 connected cameras
VIP Identification
Queue Monitoring
Business Intelligence
Detection Of Unwanted Individuals
Access Control
Secure Area Monitoring
Our Partner

01. The nShield Family of General Purpose HSMs
nShield HSMs provide a hardened, tamper-resistant environment for secure cryptographic processing, key generation and protection, encryption and more. Available in three FIPS 140-2 certified form factors, nShield HSMs support a variety of deployment scenarios.

02. The payShield HSM family of Payment HSMs
Designed for the payment industry, payShield HSMs are proven solutions that deliver capabilities for issuing credentials, processing transactions and managing keys. Thales e-Security payment HSMs are the most widely deployed in the world, used in an estimated 80 percent of payment card transactions. payShield 9000 supports payment applications for contact chip, contactless chip and mobile secure elements. The solution addresses evolving standards from EMVCo, PCI SSC, GlobalPlatform and Multos International.

03. mPOS Security
Thales hardware security modules (HSMs), both payShield 9000 and nShield, are already helping PSPs to deliver secure mobile point-of-sale (mPOS) solutions to large numbers of merchants, some accepting card payments for the first time. The HSM performs three critical functions for PSPs – managing keys for the card readers, decrypting the encrypted transaction data received from the merchants and translating the PIN blocks for online PIN-based transactions. payShield 9000 meets all the relevant payment security certification standards (FIPS 140-2 Level 3 and PCI HSM) in addition to supporting various algorithms and key management methods used in mPOS transactions – with the ability to add custom functions to meet individual PSP requirements if necessary.
ePIN
ePIN is an end-to-end software solution that allows a financial institution to issue or change the PIN of their customers electronically, based on the split-knowledge principle.
The ePIN Solution is implemented within the PCI zone of the issuing organization and the auditor examines the end-to-end process of issuing, including PIN delivery. Given the long experience and extended technical expertise on security best practices and PCI DSS compliance, the ePIN solution has been designed "from the ground up" to take into account PCI DSS requirements and Card Schemas standards for secure transmission of PINs via electronic methods, and delivers maximum possible security in its implementation, operation and administration.
Benefits
Considerable cost savings from paper, printing equipment, maintenance and postal expenses
Fast implementation
Speed – card holder no longer has to wait for days for their PIN mailers to be delivered, making the solution ideal for instant issuing
PIN delivery is made with maximum security
Easy adaptation to bank systems & workflows
Simplifies the card activation process for card holders, simultaneously providing an increased sense of security
Improves Eco profile – no paper is used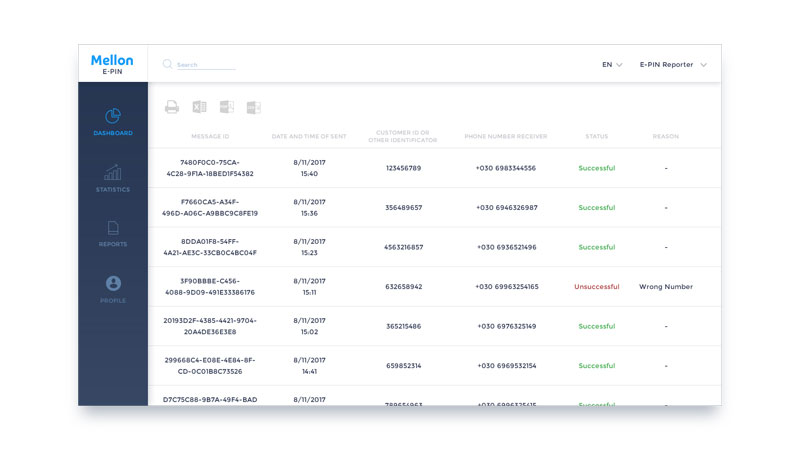 Strong Customer Authentication & PSD2 Compliance (SW, HW, Mobile Tokens)
Ezio enables banks to transform their digital services by allowing customers to easily and securely access online services and carry out transactions across all digital channels.
From risk management to strong user authentication and transaction signing, Ezio solutions secure all eBanking and eCommerce use cases. By offering frictionless, convenient, and robust authentication, Gemalto's eBanking solutions protect online banking customers from external attacks and guarantee an ideal balance between a user-friendly, and secure online experience.
Address all uses cases (ie online banking, ecommerce, ATM cardless withdrawal)
Secures all channels: PCs, mobiles and tablets
Provides convenient authentication methods, including biometrics
Monitors risk in real-time
Offered in-house or as a service
In addition, Mellon offers Gemalto's identity and access management products that utilize strong authentication to enable enterprises and trust centers to secure access, identities, and interactions. Our solutions include cloud-based or server-based management platforms, advanced development tools and the broadest range of authenticators.
Identity-as-a-Service
Authentication-as-a-Service
Authenti​cation Management Platforms
Blu​etooth Authentication
OTP Authenticators
Out-of-Band Authentication
Pattern-Based Authentication
PKI Smart Cards
Remote Access Solutions
Security Applications
Smart Card Readers
Software and Mobile Authenticators
USB PKI Tokens
Hybrid Digital Onboarding & Know Your Customer (KYC compliance with AML4)
ID Verification is a comprehensive identity verification solution for customer enrollment​. It is the answer for financial institutions looking to deploy a fast, convenient, and compliant way of performing identity checks to prevent themselves from money laundering activities.
In the current regulatory landscape, global financial organizations must make significant investments in anti-money laundering (AML) and anti-terrorism controls (CFT) leading them to follow a client identification procedure of Customer Due Diligence (CDD) or Know Your Customer (KYC). ID Verification helps banks provide a smooth customer onboarding experience that complies with KYC regulations and minimizes the risk of fraud.
Features
Gemalto's ID verification solution automatically performs, in a few seconds, the three verification actions required to identify a customer and it also allows a real-time enrollment in any configuration. It is a fully flexible solution that can be easily deployed across subsidiaries and branches.
Our solution automatically provides, in a matter of seconds:
digital capture of customer information for instant auto-fill in enterprise data systems
multichannel identity document verification, with adaptable security levels
option of customer authentication using biometric technologies
option of customer risk assessment through the review of PEPs, sanctions or watch lists​

Mellon's Hybrid solution offers organizations various services depending on local regulations and IT infrastructure:
Off-line ID Verification with Back-office services
Video Call services for extra security checks and liveness
Uploading of extra accompanied documents to support remote on-boarding
Remote issuing of Qualified Certificate to support Remote Digital Signing under eIDAS regulation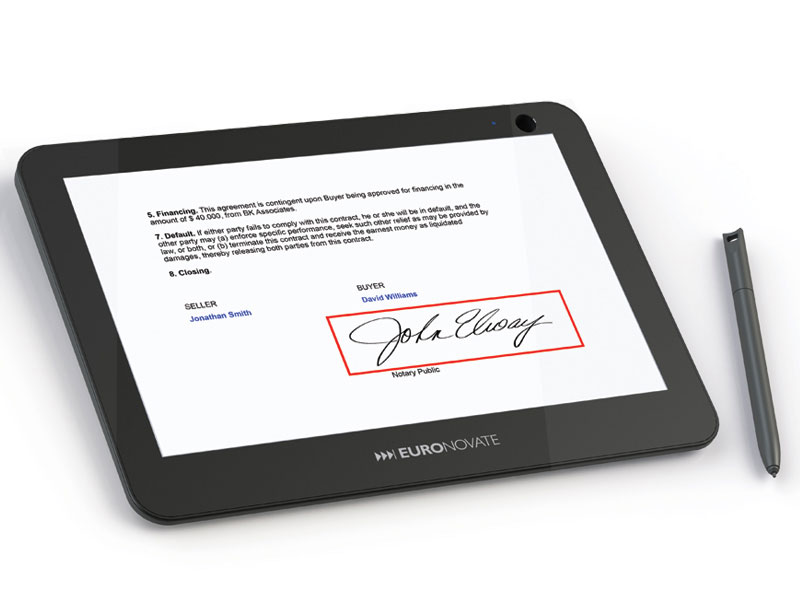 Electronic Signature
ENSoft signature solution by Euronovate is a complete solution suite for the collection of biometric signatures.
It includes 14 modules that, in addition to the "base" version (ENSoft core module), allows the use of Euronovate devices in the best possible way, not only for the signature but also for marketing activity and data-entry on the costumer's side.
The solution was developed to allow quick and easy integration with the systems already in use by the customer. The provided SDK, or any available plug-in, allows the customer to experience the signature of his documents just a few hours after the first installation. EnSoft uses the Device as a separate object from the PC because it includes a FW, and an entire SW chain, and the return of the PDF ready for storage.